Remote Access and Network Administration with the VShell® Server
For securing remote access and administration, VShell offers distinct advantages to network managers and administrators, from shell access to file transfer and powerful task automation. The Secure Shell and TLS protocols give you the flexibility to provide security within your current network infrastructure and policies.
Remote Access
VShell server offers a wide range of standards-based secure services.
Easy setup and configuration to fine-grained access control
A text-based interactive command shell with full encryption of user account information and application data
SFTP and SCP file transfer, with an available edition adding Secure FTP over TLS
Port Forwarding – a flexible, secure tunnel for TCP/IP data
Task automation is facilitated by RunAs commands and trigger conditions
Remote Administration
Securely access servers from the network or internet with SecureCRT
Use the command shell and remote desktop tools secured by VShell to add machines and users to the network, transfer and update files, control Windows services, and configure network devices
Start batch jobs and scripts with remote command execution
Other VShell assets for admins include high-quality VT220 emulation and automatic host key generation for unattended server deployments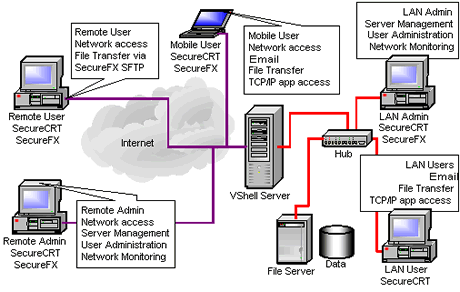 The VShell Server and VanDyke Software Client Applications
The VShell Server supports connections from any Secure Shell client written to the SSH2 standard, including popular open-source applications.
SecureCRT – powerful, high-usability terminal emulator for secure access to network devices and business applications, with file transfer and automation.

SecureFX – secure file transfer application that is easy to learn and use, and helps streamline everyday tasks with site synchronization and automation.
Replace Telnet and FTP Now!
Open Telnet and FTP ports are vulnerable to attack: user IDs and passwords are transmitted in cleartext. Moreover, data in transit is not protected.
Secure Shell authentication, data encryption and data integrity protect shell sessions from eavesdropping, password sniffing, man-in-the-middle and other attacks.
VShell file transfer offers SFTP single channel design, SCP for compatibility, and a TLS encryption option.
The VShell server is available for download with a free evaluation license. Evaluation software is fully functional and includes documentation.
Three Fast Ways to Learn More About VShell Server For Windows, Linux, and Mac
Tell me more. Email us your questions about putting VShell to work for your organization.
Try it today! Download a free evaluation copy of VShell for Windows, Linux, or Mac.
Talk to us. Let us help define the right VShell server solution for your company.