Color Scheme Scripting
Watch the video: Color Schemes and ANSI Color Palettes
Consider the following scenarios:
Sharing a configuration with team members and want a quick way to get at your preferred colors?
Do you just want to have your color schemes automatically rotate through each time you connect in order to avoid the monotony of the same view?
Or, do you simply want to quickly cycle through all available color schemes in rapid succession to see which one you prefer most?
Whatever your need, these examples demonstrate how you can select pre-defined color schemes from within a SecureCRT script.
Two different examples are available:
SetColorScheme.py
Given a value that matches the name of an existing color scheme in SecureCRT, this script changes the color scheme in the current open session to match that color scheme provided. Name that scheme, press the button, and it's yours. SetColorScheme.py.txt is available for downloading below.
ColorSchemeAutoRotation.py
Each time this script is run, it rotates your session color scheme setting to the next color scheme defined in SecureCRT's global color scheme list. Use it as a Logon Script to automatically cycle through your color schemes each time you connect. Boredom prevention, perhaps? Nope! It's a 5x click-reduction efficiency increase.
ColorSchemeAutoRotation.py.txt is available for downloading below.
"Happiness is a nice, easy-on-the-eyes color scheme."
Consider mapping SecureCRT button bar buttons to run these scripts (see this tip, Introduction to the SecureCRT Button Bar), as demonstrated in this video, SecureCRT Color Scheme Scripting.
Here's a demonstration of the new color schemes available in SecureCRT 8.3 and later:
Birds of Paradise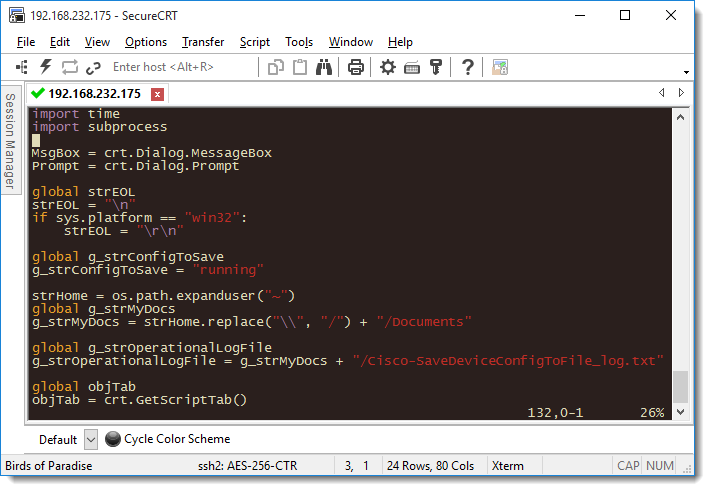 Chalkboard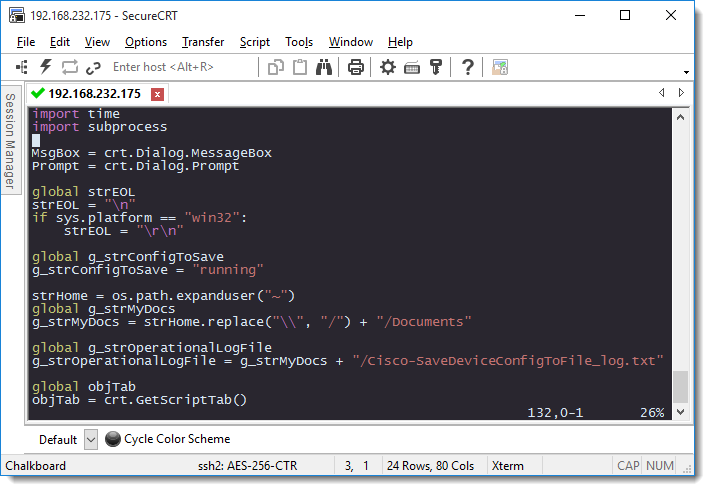 Ciapre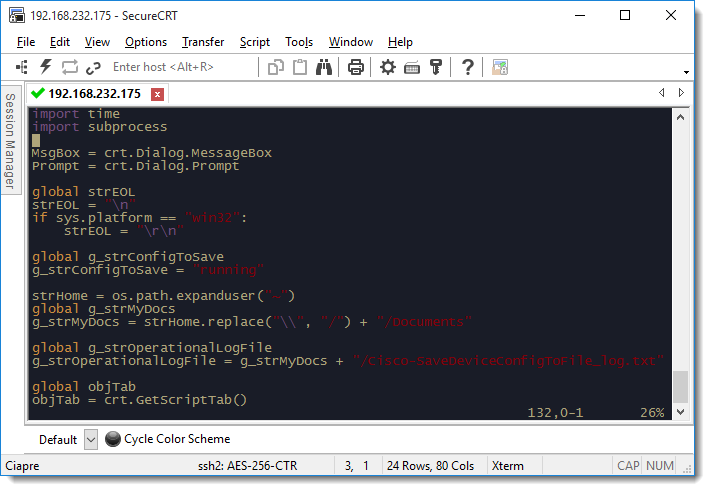 Dark Pastel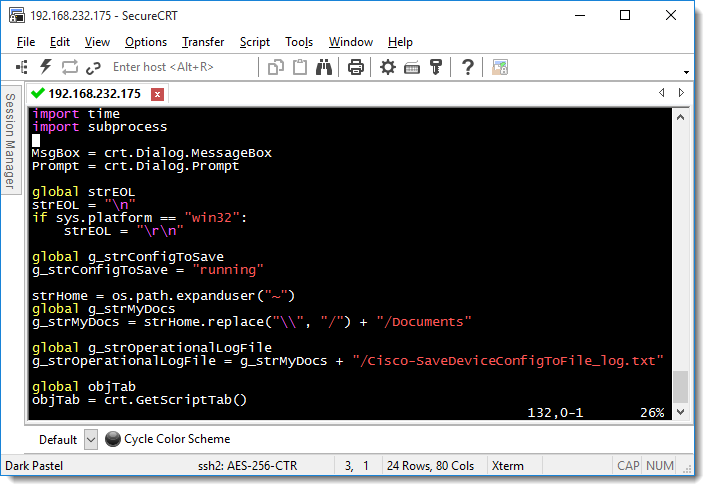 Desert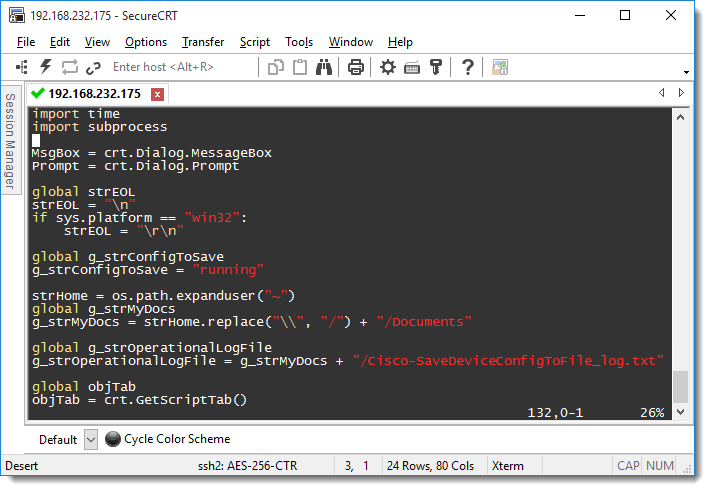 Espresso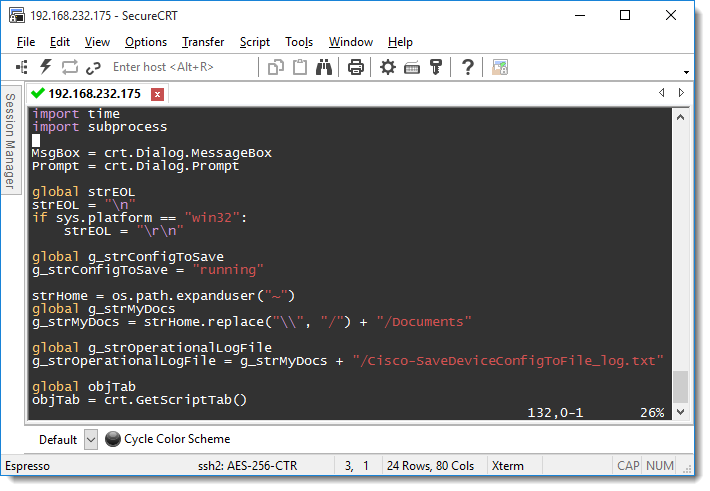 Ideltoes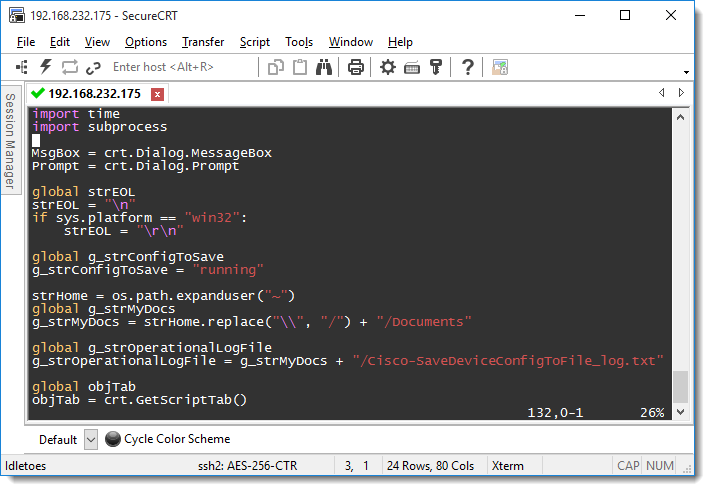 Invisibone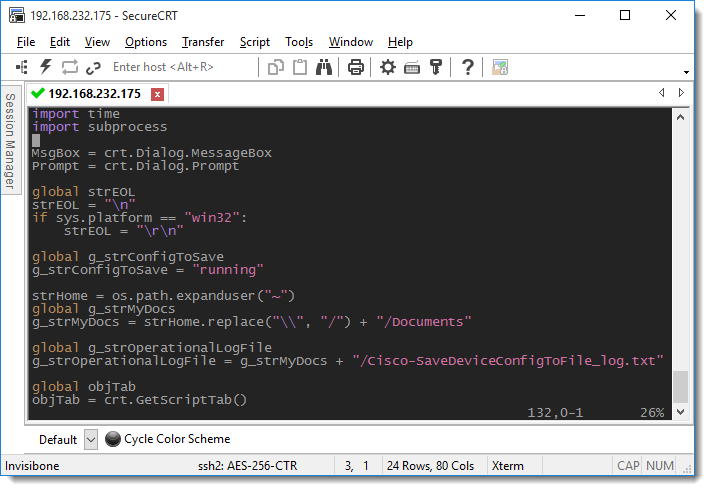 Novel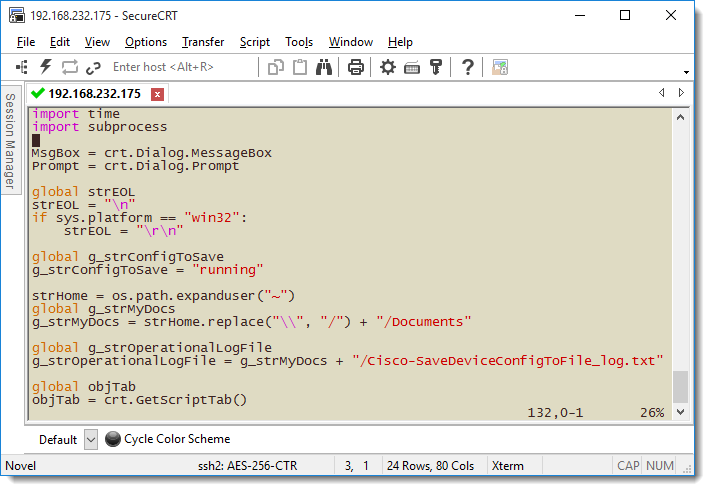 Solarized Darcula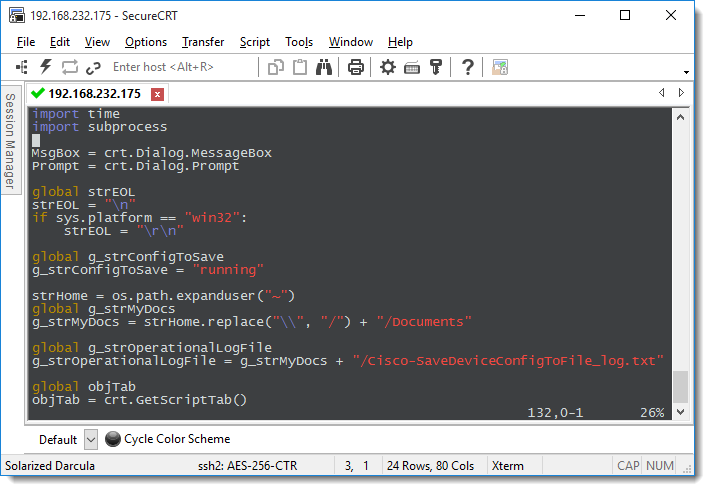 Solarized Dark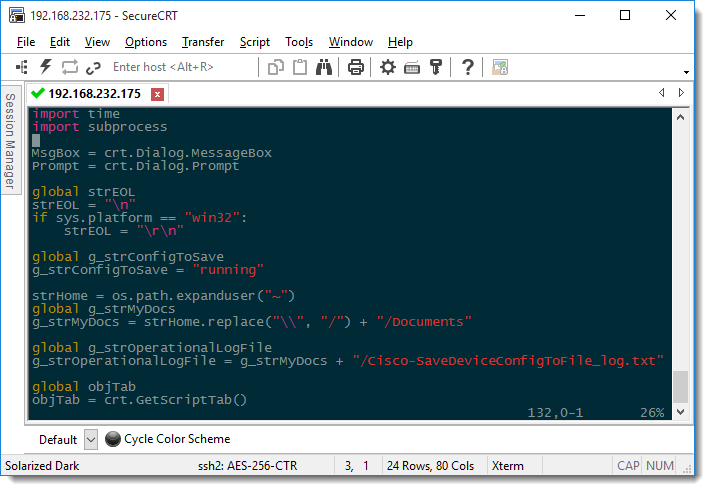 Solarized Light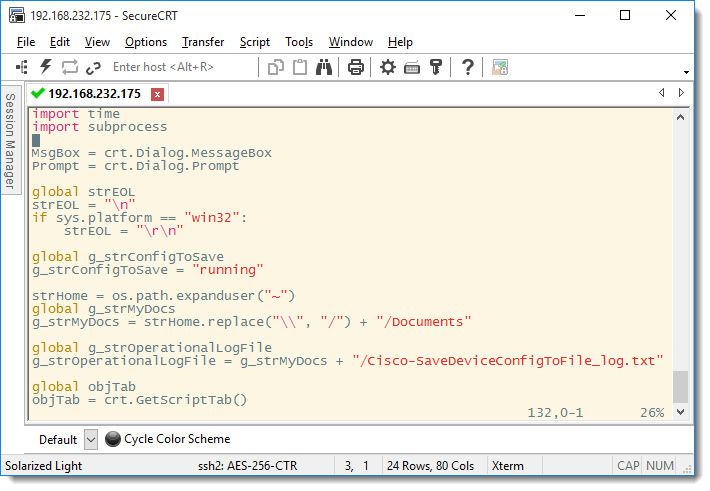 Tomorrow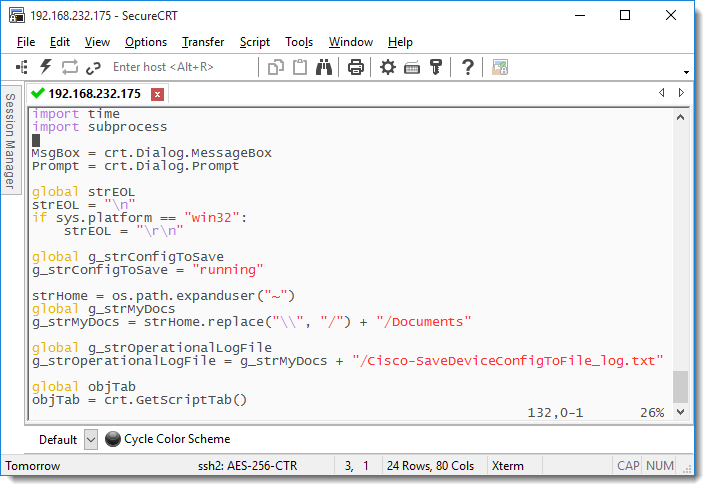 Zenburn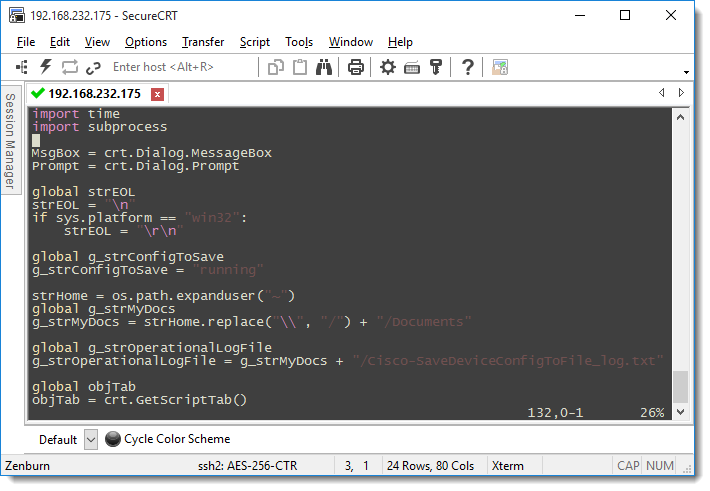 Want to have even more color schemes available?
Another example script will import nearly 200 different color schemes into SecureCRT:
The following is a list of the color schemes that the above script will ensure are available in SecureCRT:
| | | |
| --- | --- | --- |
| _bash | Harper | Paul Millr |
| 3024 Day | Hemisu Dark | Pencil Dark |
| 3024 Night | Hemisu Light | Pencil Light |
| Aci | Highway | Peppermint |
| Aco | Hipster Green | Pnevma |
| Adventure Time | Homebrew | PowerShell |
| Afterglow | Hurtado | Pro |
| Alien Blood | Hybrid | Red Alert |
| Argonaut | ibm3270 | Red Sands |
| Arthur | IC Green PPL | Relaxed |
| Atom | IC Orange PPL | Rippedcasts |
| Azu | Idletoes | Royal |
| base16: Google (dark) | Invisibone | Sat |
| base16: Google (light) | Ir Black | Sea Shells |
| Belafonte Day | Jackie Brown | Seafoam Pastel |
| Belafonte Night | Japanesque | Seti |
| Bim | Jellybeans | Shaman |
| Black / Cyan | Jup | Shel |
| Black / Floral White | Kibble | Slate |
| Blazer | Kokuban | Smyck |
| Blarland | Later This Evening | Snazzy |
| Broadcast | Lavandula | Soft Server |
| Brogrammer | Liquid Carbon | Solarized Darcula |
| C64 | Liquid Carbon Transparent | Solarized Dark |
| Cai | Maia | Solarized Light |
| Chalkboard | Mar | Spacedust |
| Ciapre | Material | SpaceGray |
| Clone of Ubuntu | Mathias | SpaceGray Eighties |
| CLRS | Medallion | SpaceGray Eighties Dll |
| Cobalt 2 | Misterioso | Spring |
| Cobalt Neon | Miu | Square |
| Colorcli | Molokai | Srcery |
| Crayon Pony Fish | Mona Lisa | summer-pop |
| Dark Pastel | mono-amber | Sundried |
| Darkside | Monochrome | Symphonic |
| Desert | mono-cyan | SynthWave |
| Dimmed Monokai | mono-green | Teerb |
| DOS | Monokai Dark | Terminal Basic |
| Dracula | Monokai Soda | Terminix Dark |
| Earthsong | mono-red | Thayer Bright |
| Elemental | mono-white | Tin |
| Elementary | mono-yellow | Tomorrow |
| Elic | N0tch2k | Tomorrow Night |
| Elio | neon-night | Tomorrow Night Blue |
| Espresso | Neopolitan | Tomorrow Night Bright |
| Espresso Libre | Nep | Tomorrow Night Eighties |
| Fairy Floss | Neutron | Toy Chest |
| Fairy Floss Dark | Night Owl | Traditional |
| Fishtank | Nightlion V1 | Treehouse |
| Flat | Nightlion V2 | Twilight |
| Flat Remix | nighty | Ura |
| Flatland | Nord | Urple |
| Floral White / Dark Cyan | Nord Light | Vag |
| Foxnightly | Novel | Vaughn |
| Freya | Obsidian | Vibrant Ink |
| Frontend Delight | Ocean | VS Code Dark+ |
| Frontend Fun Forrest | Ocean Dark | Warm Neon |
| Frontend Galaxy | Oceanic Next | Wez |
| Github | Ollie | White / Black |
| gooey | One Dark | White / Blue |
| gotham | One Half Black | Wild Cherry |
| Grape | One Light | Windows |
| Grass | palenight | Wombat |
| Gray | Pali | Wryan |
| Gruvbox | PaperColor Dark | Yellow / Black |
| Grubox Dark | PaperColor Light | Zenburn |
| Hardcore | Paraiso Dark | |
Example Scripts
SetColorScheme.py.txt (1.3 KB)
ColorSchemeAutoRotation.py.txt (10.5 KB)
ImportAdditionalColorSchemesIntoGlobalConfig.py.txt (72.8 KB)